Related YoLinux Tutorials:
---
---
---
Free Information Technology Magazines and Document Downloads


---
Use of music is often restricted by the owners who have copyrights and require agreements and royalties for its' use. This is their right. Thus the music can not be used without permission and/or payment of a fee. If you want to create a home video of the family and publish it on YouTube, don't even think of putting down a soundtrack without first obtaining the proper permission and/or paying a royalty. Some music is in the public domain for unrestricted use because all rights have expired, the owner or author has released it to the public domain or is old enough to have never had a copyright.
Recordings of the music must also be released into the public domain or else it too can be copyrighted.
---
List of sources of Public Domain Music/Royalty Free Music:
Music: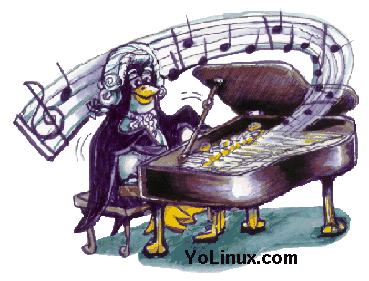 Sounds and Sound Effects:
Lists:
Wikipedia Lists:
Google Search:
---
---
Authors:

Publishers:

Mechanical:
---
Web Based Music Distribution:
---
---

Books:
---
---
---
---