Related YoLinux Tutorials:
Clustered Filesystems:
Distributed Filesystems:
Logical Volume Manager:
---
High Performance Computational Clustering: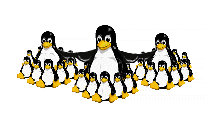 Linux HPC (High Performance Clusters)
ClusteringTools:
Scheduling:
Message Passing Interface (MPI): Programmers API for software to coordinate tasks access multiple nodes.
IPC Communication Libraries:
---
HA: High Availability Clusters
Linux Journal: A High-Availability Cluster for Linux - by Phil Lewis June 29, 1999
---
Distributed computing. Generally more loosely coupled than a cluster. A grid may be heterogeneous and geographically dispersed.
---
Cloud computing infrastructure provides the ability to provision computing infrastructure, software, storage, security and data management as a service. Typically this is provided using distributed virtual systems preconfigured to perform these services. When greater throughput is required, more virtual machines are provisioned to support the load.

Commercial Cloud computing efforts are available as services purchased through vendors such as Amazon Web Services (EC2: Elastic Computing Cloud) or Google AppEngine.

Open source cloud frameworks are also available:
---
Infiniband:
High Performance / Low latency Gigabit Ethernet (GE):
Latency Comparison:
Hardware
Latency (microseconds)
Bandwidth
Quadrics
3
800 Mb/s (Elan 4)
Myrinet
6
800 Mb/s (Rev E)
Infiniband 4X (MPI driver)
6
1.8 Gb/s
(10 Gb/s Voltaire)
Level 5 Networks (Low latency GE NIC/driver)
7 end to end MPI
13 with switch
9 TCP end to end


Ammasso (RDMA)
16 end to end


Standard Ethernet (GE) TCP/IP
65 MPICH over TCP/IP
80-100 TCP/IP
60 - 80 Mb/s

Source: Foundry Networks 2004
Network monitoring:
---
---

Books:
"How to Build a Beowulf: A Guide to the Implementation and Application of PC Clusters"
by Thomas L. Sterling, John Salmon, Donald J. Becker, Savarese, Daniel F. Savarese
ISBN #026269218X, MIT Press


"Linux Cluster Architecture"
by Alex Vremios
ISBN #0672323680, Sams 1st edition


"Building Linux Clusters" (and CD)
by David H. M. Spector, Mark Stone
O'Reilly and Associates
ISBN #1565926250


"Server Load Balancing"
by Tony Bourke
O'Reilly and Associates
ISBN #0596000502


"In Search of Clusters"
by Gregory F. Pfister
ISBN #0138997098, Prentice Hall PTR

Theory and concepts.



"Blueprints for High Availability"
by Evan Marcus, Hal Stem
ISBN #0471430269, Wiley



Advertisements
---

---